API COUPLINGS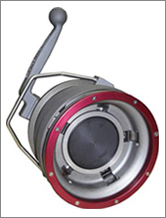 API hose couplers and tank adaptors are interchangeable with other products manufactured to standard API RP 1004.
API coupler is a high pressure design with five claw closure connection for strength and two interlocks for security and safety.
A moulded lip seal configuration is used for long leak-free performance.
API tank adaptors are available with or without operating handles or sightglasses
Features:
Connect and disconnect under pressure and without spillage.
Built in accordance with API RP 1004.
Mounting lugs provided for air interlock valve system.
Optional sight glass on the adapter (tank unit).
Flat surface area on the bottom portion of the valve, which prevents product from being trapped.
The operating lever, body and sleeve are all of heavy-duty aluminium.
API Coupler is full interlocked. It cannot be opened unless it is properly connected, and cannot be disconnected when the poppet is open.
Technical Details
Size
: 4 inch (DN100)
Material
: Aluminium alloy
Seals
: FKM. Other material on request
Working Pressure
: 16 Bar for Couplers and 10 Bar for adaptors
Test Pressure
: 24 Bar for Couplers and 15 Bar for adaptors.
End Connectios
: TW3/100 and TTMA Flange