HOSE MOVERS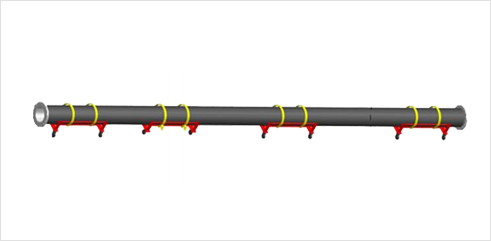 Hose Movers are specially designed to move long length, larger bore hoses at site.

As per usual practice on site large bore hoses are normally dragged which damages the outer cover of the hoses or workers carry the hoses which result in OHS risk.

With the help of Hose Movers one can prevent damages to the hoses and also increase the safety of workers on site.
All new Carbon Steel Galvanized design.
Heavy Duty rugged casters.
Equipped with hose belts specially designed to secure hoses and prevent spillage during transportation.
High intensity reflective markers at both ends for easy identification at night time.
Designed to accommodate 3" upto 12" ID hoses.
Designed to tip sideways for easy loading and unloading of hoses.
Extremely light weight and durable.
Approximate dimension 500 mm x 450 mm x 1020 mm.