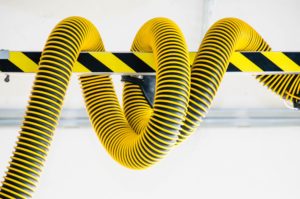 Date :
February 11th, 2019
Posted By :
admin
---
Types of Industrial Hose You Should Know About
Garden hoses are mainly used for nourishing your cute little plants and the overall garden. But, when it comes to industrial hoses, the options aren't limited to one or two hoses that are lightweight and have great durability, instead, these flexible industrial hoses are used in an array of applications and areas. Hire services from the best chemical hose manufacturer.
That being said, it is quite essential to choose an ideal hose depending on your particular requirements and areas you'll be using it. Now that you have decided to purchase the perfect hose for your commercial or home applications, let's have a look at some common types of industrial hoses you must know about:
The standard water hose, which is mainly used to water your garden, is comparatively much smaller and can be used for fertilizing farms, wastewater drainage, fire departments, huge machinery, tanks cleaning purpose, and so on. Keeping in mind the extreme amount of pressure that the industrial hoses are designed to hold up, the manufacturer's use high-quality materials (especially, the PVC and EPDM material) to create these highly-durable water hose.
As the name itself suggests, air hoses are particularly used in sprayers, compressors, blowers, and other such pneumatic lines where air pressure needs to be controlled at specific levels. The industrial air hoses are carved out of sturdy materials such as premium rubber and are commonly found in construction sites, mines, and other such industrial areas. They help running smoother operations and are robust enough to withstand the rugged environment.
Have you ever seen how liquids are injected into the container? In beverage and food segments, the beverage hoses are commonly utilized to add or take out liquids, juices, alcohols, milk, and even oil. Being designed out of high-standard polyurethane, the beverage hoses are tough enough to manage any sort of liquid and is durable enough to last for years (even after its constant use).
You might be wondering why use a chemical hose if the beverage hose could be used to handle all kind of fluids? Well, there are certain types of strong and hazardous chemicals and medical fluids which couldn't be treated using casual hoses. In such cases, people often go for the chemical hose which is designed to either extract or injects acidic chemical substances. The main advantage of the chemical hoses is that it can resist aggressive conditions and comes with a non-stick inner tube, which makes it easier for users to utilize it for high-temperature materials. Get the most out of the chemical hose manufacturer out there.
Ever heard about ventilation hoses? The material handling hose performs a similar function to ventilation hoses by transporting materials to other locations. These durable hoses are used to transfer cement, strong fibers, particles, powder, and more. There are a plethora of other hoses that could be categorized as the material-handling hoses such as sandblast, concrete, pulp, and plaster hose.
Apart from being used for the gardening purpose, the above-listed industrial hoses could be utilized for a variety of applications, depending on your requirements.