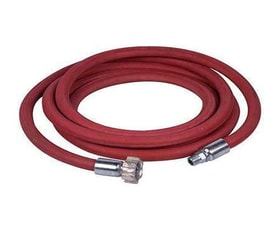 Date :
December 4th, 2018
Posted By :
admin
---
Know the important steam hose safety facts
Steam hoses need to be handled carefully and installed properly otherwise it might lead to a bigger issue later on.
Here are some of the safety-related facts which you need to know about steam hoses:
EXTERNAL DAMAGE AND WEAR
Steam hose can prove to be hazardous for both the factory and residential setups and should not be used in case you find out that it is worn out. If not treated properly, the steam hose can cause damage to the reinforcement internally which can eventually reduce its work life. Not only this, but it can also lead to unexpected catastrophic failures. Thus, it is essential that you inspect the damages and make sure that the steam hose is properly fitted on the application.
PRESSURE, VACUUM, AND TEMPERATURE,
Avoid using a steam hose that is not certified or has low or no ratings for the pressure and temperature of the system that it is connected to. If you are going attach a hose to the system that has high rated pressure or temperature then it might lead to premature failure of the hose assembly. Also, the steam hoses are not designed to resist vacuum and thus they should not be used if there is a vacuum in the system.
EXTERNAL ENVIRONMENTAL CONDITIONS AND STORAGE
There are times when even a good quality hose might get affected by external environmental factors such as chemicals, salt water, sunlight, and even contamination. These factors can affect the functioning of the hose due to which it might need to be replaced. You also need to look out for these factors when you are storing or using new hoses.
PROPER INSTALLATION
Make sure that the hose assemblies are safely installed and fitted to the application. Check the length of the hose between the connection points and make sure that there is proper pressure distribution. Use vertical outlets if you want to reduce the chances of kinks and reduce stress on the hose.
CLEANING OF THE HOSES
It is necessary to clean the hoses regularly and make sure that there is no dust or foreign material that can cause damage. Moreover, you should make sure that these materials are removed from the hose so that there are no issues while using it for a particular task.
REGULAR MAINTENANCE
Inspect the hose once during the fitting installation to ensure that there is no damage. Moreover, it is advised that you test the hose at least twice so that no serious issues arise later on.
OFFICIAL CERTIFICATIONS
There are numerous standards and certification that are used for steam hoses which vary according to the country that they are used in. Make sure that the certification which pertains to your country matches with that of the hose so that you are not fooled when it is comes to quality.
Hope you are now familiar with the different safety measures and facts that you should know about steam hoses. Keep a check on them to avoid any casualties.