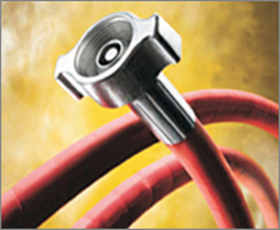 Date :
June 15th, 2016
Posted By :
admin
---
Importance Of Braided Steam Hoses
Many steam hoses in the modern market have braids, and this seems to be the conventional technique used to process braided hoses especially steam hoses. There are various myths about steam hoses and braiding as a technique including speculations regarding its benefits and concerns. However, braided hoses have clear cut advantages and dominate the market although not all braided hoses you come across will depict desirable quality and characteristics. Like most other products, there are variations from one model to another, and when some are incredible, others are a cheap quality that will not meet your requirements. Therefore, it is important to evaluate your offers keenly before spending money.
Features of braided hoses
In order to clearly understand the advantages of using steam hoses that are braided, it is important to look at their features. A typical braided hose includes the following:
EPDM cover
Safety factor range between 10 and 1
A separate static wire built into the pipe
Coding for the dates and brand and
Tube reinforcement
These features are intended to offer various advantages that non-braided steam hoses lack. When it comes to installing hot water/steam hoses, a lot of precaution is required. Steam exposure is hazardous and can cause damages to the property, bodily injuries or even death. It is, therefore, important the proper hose suiting that application. The most important aspects when selecting braided steam hose include insulation, how to use (usage) and the maintenance directions.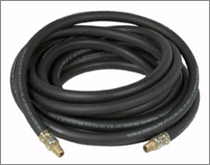 The benefits
A braided steam hose provides many advantages over hoses that feature no braids. They offer enhanced insulation properties thus maintaining the temperature of the water and reducing energy bills especially if you have water heaters installed. Insulation also ensures the heat does not interfere with immediate surrounding holding the pipes and hose in place. What's more, these hoses are stronger and durable. Most are heat, ozone and weather resistant, and are not affected by steam cleaning agents. They are color coded and required to meet a strict RMA standard for safety and maintenance assuring safe grounding. Their applications are seen in the transfer and transportation of hot liquid detergents, in the petroleum industry, steam for processing industries and steam used in melting glues.
Things to consider
When looking for steam hoses, it is advisable to choose braided hoses which add durability, safety, efficiency and convenience to the application. However, not all models offer equal quality. It is, therefore, important to consider a number of aspects that include the credibility and reputation of the manufacturer, safety standards, reviews and complaints from previous/current users among such elements. The applications of steam hoses are very delicate and require proper standards otherwise you risk hefty damages and injuries or expenses in terms of maintenance. Choose brands that offer quality guarantee provisions and insurance.
As commonly used pipes, finding braided steam hoses should be as easy as searching for business on your favorite browser. Most retailers and manufacturers own professionally built websites where they offer descriptions of their products including how to order. Always choose credible reputable and licensed businesses that are allowed to vend such products in the area. More importantly, ensure the hoses meet the set safety standards before anything else.