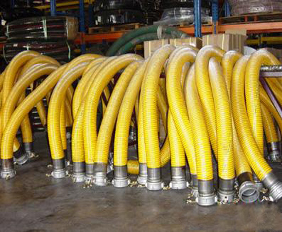 Date :
November 5th, 2016
Posted By :
admin
---
Factors That Must Be Considered When Choosing a Composite Hose Manufacturer
Composite hoses are generally better than hoses made using metal, rubber, plastic or other materials. Composite hoses are usually light weight, flexible and kink-proof. They are also durable and resistant to harsh environmental conditions.
The multi-layer construction design prevents catastrophic failures. Additionally, they remain effective and efficient at low and also cryogenic temperatures.
Electrical conductivity concerns
The composite hose manufacturer must ensure that its range of products has complete end to end electrical-continuity characterized by resistance of at most 10 ohms, which should be attained by joining the end connections to the outer and inner wires. This ensures provision of complete hard vacuum capacity.
The manufacturer should also have the capacity of offering products with recommended electrical resistance, non-conductive and semi-conductive properties. This ensures that the products prevent arc-over hazards and sparking, and also meet the electrical characteristics requirements of most industrial applications.
High standards of engineering and manufacturing processes
Ideally, the composite hose manufacturer must meet and even exceed the quality standards set by statutory bodies such as the EN 137666, EN 13765, BS 5842 (the British Standard) as well as the US Coast-Guard Regulations 33-CFR sections 154.810 and 154.500.
Heavy duty marine, dock and barge composite hoses should meet the minimum quality standards prescribed by the United Nation's IMO (the ICH and BCH codes).
Additionally, the composite hoses should be manufactured in an ISO Certified 9001: 2000 manufacturing environment characterized by strict in-house checks and control processes to ensure that all products are of high quality.
Compatibility, environmental considerations and handling
When you need to purchase composite hoses, choose those that are designed with several, tightly-wound constituent layers which are capable of creating reliable and extended course for fluids. They should have gone through a thorough manufacturing process that has resulted in outer and inner wires with proper pitch and gauge.
Choose products that are characterized with superb flexibility, those that are incapable of kinking and/or collapsing as a result of excess pressure. They should offer excellent hoop strength, great service during their lifetime as well as superior performance and safety.
Ensure that the composite hoses are designed with several wraps of non-polar and polar thermo-plastic films that can safely and securely contain vapors and fluids. They should also consist of barrier layers that prevent permeation by non-polar and polar fluids such as gasoline and methanol.
Assembly
Every end connection should be purposely designed, engineered as well as manufactured to engage and perfectly unite with not only the tailpiece/ hose shank, but also the hose wall.
The tailpiece and ferrule should be joined to the hose through the crimping or external swaging process.