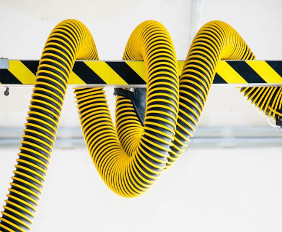 Date :
November 30th, 2016
Posted By :
admin
---
Air Water Hoses – Some Useful Tips
Nowadays, choosing some good tools can be a pretty hard challenge. The market is crowded with different brands and their quality is not always that good. So how can you find a product that provides quality and has in the same time a wide range of other features? Well, you have to inform yourself. A good example of such product is an air water hose. This industry is very profitable and you will have a lot of models to choose from. Still, what you need is a product which will be able to resist over time, easy to handle and reliable. Bellow, we will present you the main features of a good air water hose company and how to choose the best product.
1) MaterialA good manufacturer will always know that a good material will have a positive impact over the quality of the final product. That's why, the best air water hose should be made of rubber and PVC. This combination is a very resistant one and in the same time provides a high level of flexibility. Because of it, you can use it in any field, industrial or not, for any purpose whatsoever.
2) Connectors and valvesThe material of the hose is very important but it won't help you much if the fittings or connectors are poorly installed or made from low quality materials.
The best connectors are usually made from brass. It behaves well over time and it can withstand any temperature variation. A respectable air water hose manufacturer will insist on the joining elements of a hose, knowing that they can make a difference in the overall quality of the product.
3) Pressure If you want to buy an air and water hose, you'll probably need it for more than just sprinkle your lawn. That's why, pressure is a very important factor when it comes to air and water hoses. With a good water pressure, you will be able to properly clean your car, fence or any other yard related items. A good air pressure will help you remove the leafs off your alley or clean some more delicate items, which cannot be washed using water. Still, even at the high pressure items, the air water hose manufacturers recommend that you should gradually increase the intensity, so you won't damage the product.
4) PriceIt's understandable. Everybody wants quality. But an important question should be: how much are you willing to spend for it? There are many companies who produce high-quality hoses, but the price is extremely high, even for that quality. You have to be extremely careful at this, because it's just a marketing practice, meant to increase their profits. Make sure that your future purchase has a good value for money. Analyze more products with the same specifications and choose the one that suits you best.
Be very careful when you're selecting an air and water hose and check the features of the product, as well as the company who produces it. Don't rush, and carefully look for some online reviews of your selected product. Also, inform yourself about the air water hose manufacturer, if he respects his promises and if he had any previous problems.